Chandrakant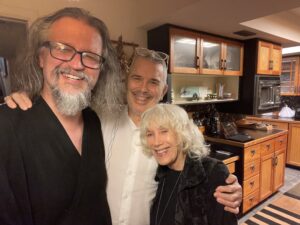 First, who is this Chandrakant character? Chandrakant is a guru-brother, a mentor and dear friend to
रामदास
. Chandrakant served as
Gurudev's
cook and housekeeper for years. His "secret" chai recipe is famous.
The picture on the right is a rare look at the "man in black" in a white shirt! When asked why he typically dresses in black, Chandrakant often says, "I couldn't find anything darker!"
Chandrakant is a scriptorian of a high caliber with the aim of knowing himself as The Self "at any time, any place, any conditions, no matter what!" and to give that knowledge to any who will receive it.
Veda (pronounced vēda, not vāda) has been by Chandrakant's side for many, many years now. Gurudev once remarked that her name (which her mother gave her) suits her—she is a great student of scripture—but if she asked him for a name, it would be GuruSeva because she is always in the background serving the guru.
---
The Videos
The videos below are self-explanitory. Watch them as if you are meeting Chandrakant for the first time because if you were sent to this page, you probably are! After you watch the videos, scroll to the bottom to contact रामदास.
Part I—The Highest Experience of Yoga
Part II—An Entry Into Meditation in Motion
---
I watched the videos, tell me more!
Please note, the information below will not be added to any lists or used in anyway other than for रामदास to contact you one time.
Thanks for watching!